Little Tails Rescue, Inc.
Gifts
Amount Raised

of

Private Matching Funds

Remaining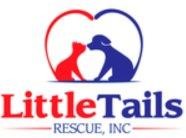 Little Tails Rescue, Inc. is a no-kill 501(c)(3) non-profit organization. We are dedicated to the rescue, treatment and adoption of senior dogs in the South Florida area. We provide extensive medical care to each senior and adopt to loving homes. Seniors which are not adoptable or have costly medical needs are placed in loving foster homes for the reminder of their lives. We also have taken in numerous senior cats and cats with medical issues. We also feed community cats/TNR community cats. We are a 100% volunteer organization. All donations are used to provide medical care for each dog or cat. We are currently raising funds for Nina, a senior Shih-Tzu, just diagnosed with mammary cancer. We will need to raise $2,500 to pay for chemotherapy. Nina was rescued from her owners in deplorable condition and now is in a loving foster home. Please help us pay for Nina's chemotherapy and continue our mission for 2018. Thank you.
3811 SW 124 court
MIami, FL 33175
Chispi is a senior dog taken to a local vet by her owner to be euthanized after being mauled by a much larger dog. The owner opted to euthanize due to cost. Chispi was 14 years old when mauled but was in good health overall and sat in the cage at the vet alert and even wagging her tail. The vet reached out for help as they did not want to euthanize this lively little girl. She required a month of treatment for her skin and was adopted by a wonderful lady who has provided her with a loving home. Chispi (now named Lily) is completely healed from her injuries. Lily loves going to the beach with her mom and loves car trips. Please check our video of Lily welcoming her mom home after work!